We depend on your support
ICF Cambodia is largely financed through donations.
In order to make our vision come to life,
it must be supported by individuals, as well as partner churches
who believe in our mission and show their faith through giving.
HOW TO GIVE IN CAMBODIA
1. Screenshot or Save this QR Code 
2. Go to ABA App on your device
3. Select "Scan QR" then upload the QR Code
4. Type in the amount that you want to give and remark as"Offering"
5. Click"Pay Now" then you're done!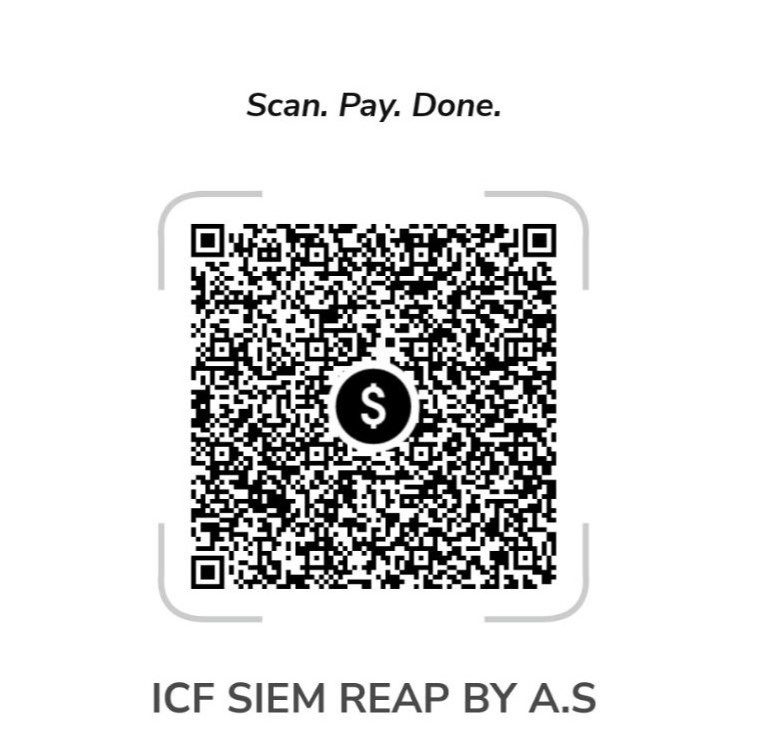 HOW TO GIVE INTERNATIONALLY
For bank transfers please include the following information:
Name, Email, Street Address, City, Postal code and intended purpose.

Bitte geben Sie folgende Informationen bei einer Überweisung an:
vollständigen Namen, Adresse, E-Mail-Adresse und den Verwendungszweck.
DONATIONS IN CHF
ICF CAMBODIA
Moosbrunnenstrasse 11,
8426 Lufingen, CH
Postfinance
IBAN:
CH19 0900 0000 6074 6375 9
BIC/SWIFT: POFICHBEXXX
DONATIONS IN EUR
ICF CAMBODIA
Moosbrunnenstrasse 11,
8426 Lufingen, CH
Postfinance
IBAN:
CH21 0900 0000 9181 8295 0
BIC/SWIFT: POFICHBEXXX
DONATIONS IN USD
Bank name: US Bank
Donate by check:
ICF CAMBODIA
PO BOX 25
5 S Washington St. Suite 105
Naperville, IL 60566
*Tax deductible in America